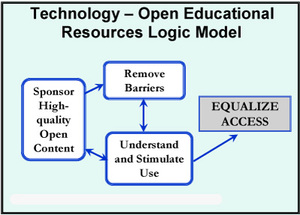 From the Hewlett Foundation's Open Educational Resources – Making High Quality Educational Content and Tools Freely Available on the Web
In March I reported on the Open University's announcement that it would be making some of its content "open", supported by a large grant from the William and Flora Hewlett Foundation. In July I included a summary from a presentation I attended by Jason Cole and Martin Dougiamas about the OU's use of Moodle. Since then progress has been swift and impressive.
On 25/10/2006, the OU launched OpenLearn "free and open educational resources for learners and educators around the world". [Hewlett Foundation media release.] Yesterday I heard a presentation to the HEFCE "eLearning Partnership Board" (on which I represent ALT) by Professor David Vincent, who is the OU pro Vice Chanceller responsible for the initiative.
Continue reading "Open University "OpenLearn": MIT with pedagogy, or MIT without the completeness?" »